Jim Laurie:
China and the World – a Five Decade Perspective
26.06.2022
From Deng Xiaoping's groundbreaking visit to America in 1979 to China's complex and confusing policy toward Russia and the Ukraine in 2022, Jim Laurie has been following events in China for nearly 45 years. In this illustrated talk supplemented by video memories of China in the 1970's and references to his interviews with Deng Xiaoping and Vladimir Putin, Laurie looks at China today and the remarkable changes over the years in its relationship with the world.
He asks whether the United States is locked in a new cold war with China as increasingly a policy of "engagement" is being replaced by one of pure competition between super-powers. He asks whether the fears expressed by hundreds of US political figures that China is an existential threat to the US and the Chinese communist party is determined to undermine the American way of life are overblown or based in reality. And he asks whether war over Taiwan may be inevitable.
As he explores these questions, Laurie will discuss his perceptions of Europe's position in the apparent power struggle and he will reflect on his insights on China as gained from his work most recently in 2019, inside the Chinese media bureaucracy.
The event will be followed by a small reception with drinks and snacks.
Date:
Saturday, 9th July 2022, 7 pm
Venue:
C-Space
Langhansstr. 86
13086 Berlin
Germany
Registration:
Free participation, but limited places. Please send a short email to NAN Haifen (
haifen.nan(AT)zhongde-media.net
) until 7th July 2022.
Guest: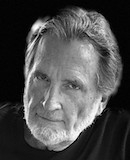 Jim LAURIE has been a global journalist and broadcaster for more than 50 years. Working for the American television network
NBC News
, he covered wars in Vietnam, Cambodia, Lebanon and the "emergency" in India. Later for
ABC News
, he opened the first American TV news bureau in Beijing in 1981. He covered China extensively, visiting there nearly every year from 1978 to 2019. In 1979, he interviewed Deng Xiaoping at the Great Hall of the People in Beijing. In Europe in the 1990's, Jim worked in Russia (in transition from the USSR) and in the Ukraine when it gained independence. He has interviewed Mikhail Gorbachev, Boris Yeltsin, and Vladimir Putin. From 2005 to 2012, Jim taught media studies and modern Chinese history as an associate professor at the University of Hong Kong. From 2012 to 2019, as a media consultant, Jim assisted China state television
CGTN
develop global English operations in Beijing. London, and Washington. He is the author of
"The Last Helicopter: Two Lives in Indochina"
(2020), a memoir of war, love, and survival in Cambodia and Vietnam in the 1970's.
Jim was one of our guests at our 2016 talk in Bonn,
"The Role, Influence and Power of the Media in Public Diplomacy"
.
This event is co-hosted by the
German-Chinese Media Network
and
C-Space
.