30 Years in the Middle of the Middle Kingdom – Talk with dpa China Correspondent Andreas Landwehr
30.10.2023
For three decades, Andreas Landwehr headed the Beijing office of the Deutsche Presse-Agentur (dpa). Now he has returned to Germany. With him, one of the most experienced China correspondents has left the People's Republic.
During his time in the Middle Kingdom, the country underwent several fundamental changes. When he arrived, the military operation around Tian'anmen Square was still fresh in the world public's consciousness. He experienced far-reaching economic reforms and the opening to the world - but also the return to autocracy and personality cult.
We want to talk to Andreas Landwehr about his three decades in China – and about the present. How has his view of the country changed over time? How has Germany's view of China changed? And how has China's view of Germany changed?
The talk will be moderated by Felix Lee, Chairman of the German-Chinese Media Network and editor at
China.Table
.
Date:
Saturday, 9 December 2023, 7 pm
Followed by a small reception.
Venue:
International Alumni Center (iac Berlin)
Linienstraße 65a II
10119 Berlin
(U8 Rosenthaler Platz)
Registration:
Free participation, but limited places. If you'd like to take part, please send a short email to Markus Wanzeck until 6th December 2023:
markus.wanzeck(AT)zhongde-media.net
Guest: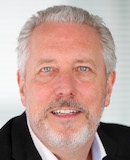 Andreas LANDWEHR, born in 1959, studied Chinese in Taipei and Bonn. He has worked for the Deutsche Presse-Agentur (dpa) since 1984, initially as a domestic editor. In 1990 he went to Washington as a foreign correspondent. From 1993 to 2023, he was dpa bureau chief in Beijing, where he was responsible for the People's Republic of China, Taiwan, Hong Kong and Mongolia. Since his return, he has worked at the dpa headquarters in Berlin.
The event is presented in cooperation with the
International Alumni Center (iac Berlin)
.