Film Screening & Discussion:
"China Visionaries – Helmut Schmidt"
13.11.2016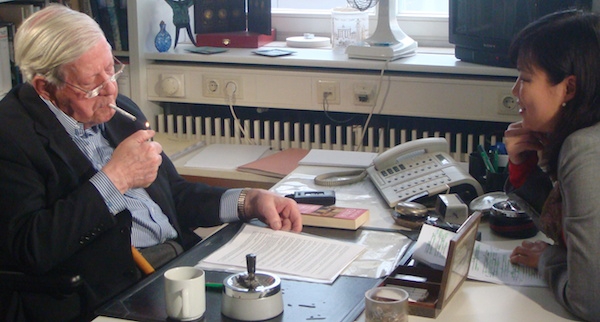 Helmut Schmidt, West German Chancellor from 1974 to 1982 and later Co-Publisher of the weekly Die Zeit, has been one of the most highly respected foreign politicians in China. He was the first German Chancellor to visit China and to meet Mao Zedong – it was the starting point of an intense scientific and technological co-operation between the two countries. Even after his political retirement, he kept on visiting China regularly and met its leaders, amongst them Deng Xiaoping, Jiang Zemin and Zhu Rhongji. He was sincerely interested in and deeply impressed by what he called the "Chinese miracle": "that the Chinese nation all of a sudden does emerge as an economic giant and at the same time was capable to improve the quality of life of its citizens".
To celebrate the People's Republic of China's 60th Anniversary, International Channel Shanghai portrayed Helmut Schmidt as one of the international "China Visionairies" who profoundly influenced China's history for the better over the past six decades. On the occasion of the 1st anniversary of Helmut Schmidt's death, the German-Chinese Media Network will show the documentary "China Visionairies – Helmut Schmidt" (52 minutes).
After the screening, the director of the documentary, Shanghai-based journalist Guan Shunying, will interview Theo Sommer about his friend and colleague Helmut Schmidt. He first met Schmidt in 1961, in a sleeper car on a train from Geneva. "We conversed for half the night about security and defense over Fürstenberg Pils brand beer", Sommer remembers in his obituary for Helmut Schmidt. "It was the beginning of an exchange of ideas about global policy that would continue for decades."
The event will be followed by a small reception with drinks and finger food.
Date:
Friday, 18 November 2016, 7:00 pm
Venue:
Finkenau Forum, HAW Hamburg
Finkenau 35
22081 Hamburg
Registration:
Please send a short email to Nan Haifen (haifen.nan(AT)zhongde-media.net) until 15 November 2016.
Guests: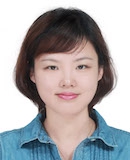 Guan SHUNYING studied English and Literature at Shanghai International Studies University (1999-2003) and Literature and Media Studies at Bayreuth University (2004-2007). Since 2007 she has been working for International Channel Shanghai (ICS) as reporter, editor and producer. 2015 she became ICS's New Media Director. In 2009 she took part in the journalists exchange programme "Media Ambassadors China – Germany". She is a member of the board of directors of the German-Chinese Media Network.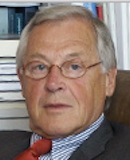 Theo SOMMER studied History, Political Science and International Relations at Tübingen University, at Manchester College (Indiana, USA) and the University of Chicago. He received his Ph.D. from Tübingen University in 1962. He started his journalistic career at Remszeitung in Schwäbisch Gmünd (1952-1955). In 1958 he joined Die Zeit as Foreign Editor. Defence Minister Helmut Schmidt appointed him as Chief of Planning Staff for the Ministry of Defence (1969/70). From 1973 to 1992 he was Editor-in-Chief of Die Zeit. From 1992 to 2000 he was its Co-Publisher, together with Marion Gräfin Dönhoff and Helmut Schmidt, and from 2000 to 2014 Editor-at-Large.


This event is presented in collaboration with International Media Center Hamburg and Robert Bosch Stiftung. It is part of the "China Time Hamburg", a biennial series of events – exhibitions, concerts, lectures, discussions, book readings, theatre stagings, films, and culinary specialties – which is in its scope the biggest in Germany. From 7 to 25 November 2016, Hamburg hosts the "China Time" for the sixth time.